At Cedar Dental Centre, our Kamloops dentists provide snoring and sleep apnea diagnoses and treatment, including oral appliances that can help you manage your symptoms.
What are snoring & sleep apnea devices?
If you suffer from snoring or mild-to-moderate sleep apnea, an oral device or appliance might help treat your symptoms. Your dentist will determine whether you are a candidate for an oral sleep apena or snoring device, and help you achieve a comfortable fit.
Signs of Sleep Apnea
If you experience any of the following symptoms, you may have sleep apnea.
Pauses in breathing while sleeping (someone else usually notices this)
Gasping for air while sleeping
Waking up with a dry mouth
Frequent headaches
Difficulty staying asleep (insomnia)
Feeling excessive exhaustion during the day (hypersomnia)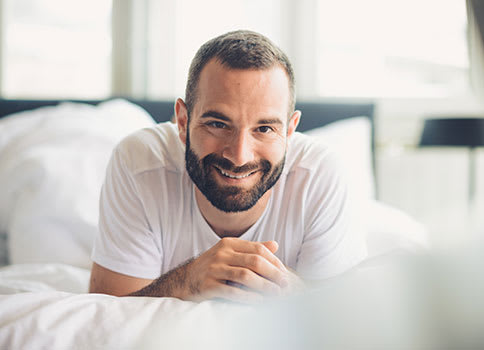 How Snoring & Sleep Apnea Devices Work
There are many different types of oral sleep apnea devices and snore guards, so it's important to work with your dentist to select the right one for you.
These appliances push the tongue and jaw forward, opening the airway and improving airflow. This helps keep your breathing regular during sleep, and prevents you from waking up as frequently throughout the night.
The fit of your device is key to its function and comfort, so you should see your dentist regularly to ensure the appliance continues to fit properly.
Learn More About Our Dental Appliances